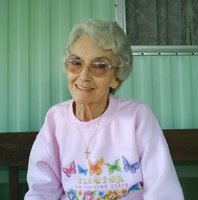 Mary Lucretia "Mary Lou" Morehouse
Mary Lucretia Morehouse, Crescent City, FL, and formerly of Troupsburg and Woodhull, NY, left this earth for her heavenly home September 13, 2017, in Palatka, Florida following a lengthy battle with rheumatoid arthritis.
She was born September 8, 1932 in Troupsburg to Edwin and Lottie Mosher Cook and was a graduate of Troupsburg Central School. She was preceded in death by her husband, Robert Morehouse, her parents, and two brothers, Donald Cook and James Cook.
She leaves behind two daughters: Patricia (Floyd) Schoonover, Crescent City, FL; Bonnie (William) Geschwender of Pinckney, MI. Four sons: Timothy (Peggy) Morehouse, Galeton, PA; Philip (Janneane) Morehouse, Painted Post, NY; Lynn (Gail) Morehouse of Manassas, VA; Loren (Ellen) Morehouse of Everett, WA. Her sister, Elizabeth LaBar of Crescent City, FL, 14 grandchildren, 2 step-grand-children, 13 great grand children and many nieces and nephews.
She worked for many years as a nurse's aide at St. James Mercy Hospital in Hornell, NY, as a Personal Care Aide, and as a custodian at the Jasper-Troupsburg Central School District. She was a gifted musician and served as the pianist for the Austinburg Baptist Church in PA and at the Georgetown United Methodist Church in FL for nearly 70 years. She also enjoyed playing the accordion.
Upon retirement, she enjoyed traveling and camping in her RV, volunteered at the Putnam County FL Service Center for many years, and together with her sister, have crocheted 100s of lap robes for patients of nursing homes.
A memorial service will be held on Saturday, November 11 at 11 am at the Austinburg Baptist Church, Austinburg, PA with Rev. John Prouty officiating. The family will be present at the church to receive friends and family from 10 am to 11 am prior to the service. Interment will be at the Woodlawn Cemetery, Austinburg, PA. A dinner and time of fellowship at the church will follow the burial.
Arrangements are being handled by the H.P. Smith & Son Inc. Funeral Home in Woodhull, NY.