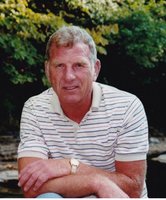 Robert H. "Bob" Sills
CANISTEO: Robert H. "Bob" Sills, 84, formerly of Cty. Rte. 119 and a resident of Elderwood at Hornell, passed away Saturday morning November 18, 2017 at St. James Mercy Hospital following a brief illness.
Bob was born December 14, 1932 in Hornell the son of the late Raymond and Angeline (VanDelinder) Sills.
He was a veteran of the U.S. Army serving our country from 1956-58. As a part of his active duty, he was an Honor Guard at the Tomb of the Unknown Soldier, for which he was very proud. After his military service, he returned to Canisteo to work on the family farm on Cty. Rte. 119 and eventually found employment with the Erie/Lackawana Railroad and retired as a conductor for Conrail after 35 years. After retirement he continued to work on the family farm raising a few sheep, planting and harvesting seasonal crops and cutting firewood.
Bob is survived by a brother, two sisters, nieces and nephews and a very close friend.
Per Bob's request there will be no calling hours or service, burial will be at the convenience of the family in the VanDelinder Family Cemetery in the Town of Howard.
Memorial contributions in Bob's name may be made to the Hornell Area Humane Society, 7649 Industrial Park Rd. Hornell, NY 14843.