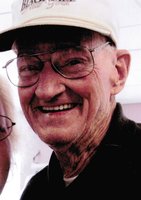 Marvin E. Miles
Marvin E. Miles, 76, of County Route 5, Addison (Town of Tuscarora), passed away on Tuesday, December 26 at Robert Packer Hospital in Sayre, PA.
Born in Rathbone, NY on October 15, 1941, Marvin was the son of the late Howard J. and Callie M. (Stuart) Miles. He attended Addison area schools.
As a young man Marvin worked briefly for Corning Glass Works. He eventually became associated with Polly-O Dairy in Campbell where he worked for over 30 years as a machine operator.
Marvin was married to the former Marjory Hall who survives. An avid outdoorsman, Marvin loved to fish and hunt. He and his family made frequent trips to Black Lake on fishing outings. He was a former league bowler in the Sunshine League in Corning. Marvin was a devoted member of the Tuscarora Baptist Church.
He is survived by his wife, Marjory Miles at home, step sons, Timothy (Bernie) Fleet of Logan, Ohio and Thomas Fleet of Addison, 6 step grandchildren, 1 step great granddaughter, brother, Howard Milton Miles of Rathbone, sisters in law, Loretta Miles of Arkport and Mildred Miles of Corning and many nieces and nephews.
He was preceded in death by his brothers, Hugh Miles, Ross Miles and Cyrus Miles and his sisters, Eleanor DuBois, Cecile Clark, Orpha Birdsall, Myra Kilbourne and Beatrice Paul.
Visitation will be held at the Tuscarora Baptist Church on Saturday, December 30 from 11 am to 1 pm. Funeral services will follow there at 1 pm with Pastor Rollin Howard officiating.
Burial will be made in Boyd's Corners Cemetery, Town of Cameron.
In lieu of flowers, the family suggests memorial donations be made to the Tuscarora Baptist Church.
Arrangements are with the H.P. Smith & Son Inc. Funeral Home in Woodhull.