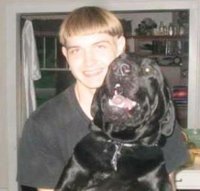 Matthew R. Seeley
Matthew R. Seeley, 29, of Rte. 287, Tioga, PA passed away suddenly at home on Monday, January 22, 2018.
Born in Wellsboro, PA on July 20, 1988, Matt was the son of Bobby Jo Seeley and Russell Ayers. He worked as an inventory specialist for RGIS of Mansfield, PA. He was an avid video gamer and enjoyed competing online with others from around the world.
He is survived by his parents, Bobby Jo Stinger and Russell Ayers, both of Tioga, his siblings, Caroline Keeney of Canandaigua, NY, Shelby Stinger of Addison, NY, Mikey Stinger of Tioga, PA and Libby Stinger of Nelson, PA, his maternal grandparents, Darlene and Marshall Harmon of Tioga, his paternal grandfather, Lawrence "Pat" Ayers and many aunts, uncles, nieces, nephews and cousins.
He was preceded in death by his paternal grandmother, Stella Ayers, his paternal grandfather, Ernie Harrower and his beloved dog, Shadow.
His family will receive friends on Monday, January 29 from 4 to 6 pm at the Tabernacle Baptist Church in Tioga, PA. A funeral service will follow there at 6 pm with Pastor Steven Neff officiating.
Memorials in Matt's name may be made to any local animal shelter of choice.