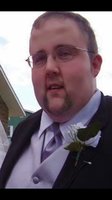 Eric S. Dyke
Eric S. Dyke, 39, of Front St. Addison, passed away on Thursday, January 25, 2018 at Corning Hospital following a valiant fight with cancer.
Born at Fort Leonard Wood, Missouri on February 26, 1978, Eric was the son of Ray and Anne (Taft) Dyke. He was a 1996 graduate of Addison Central School and a 1998 graduate of Corning Community College. He also had attended Mansfield University.
On June 15, 2008, he married Jaime Decker at the First Baptist Church of Addison. Eric was employed for 11 years by Corning Inc., working last as a finishing operator at the Diesel Substrate Plant.
A gentle giant, known as "The Big Show" in college, Eric had a huge heart and loved to show it around children. For 17 years, he portrayed Santa Claus at the Tuscarora Elementary School Christmas programs. He was a huge Superman fan and loved to be a prankster with his family and friends, all who he loved dearly.
Surviving are his wife, Jaime Dyke at home, his parents, Ray and Anne Dyke of Addison, his sisters, Amanda Mahnke of Addison and Kristin (Frank) Shorey of Virginia Beach, VA, his maternal grandparents, Ervin and Jeanine Taft of Addison, his paternal grandparents, Betty and Terry Llewellyn of Addison, his father in law, Melvin (Brenda) Decker of Campbell, his sisters in law, Melody (Steve) Heffner of Elkland, PA and Kelly (Henry) Maricle of Woodhull, his brothers in law, Joshua (Adrienne) Blencowe and Jordan Blencowe, both of Campbell, his special nephew and caregiver, Jaret Mahnke, his great nieces, Lilyan, Sophia, Zoelle and Isabella, his great nephew, Hayden, many other beloved nieces, nephews, aunts, uncles and cousins, special friends, Brandon and Ellen Wright, Robert "KoolAid" and Connie Dunning and Shawn and Demeree Towner and finally his fur babies, Brutus and Boots.
Eric was preceded in death by his paternal grandfather, Raymond Dyke, his paternal great grandmother, Myrtle Crane, his mother in law, Helen Decker, his cousin, Darrell Taft and his good friend, Steve Aguiar.
Friends may call on Tuesday, January 30 from 1 to 3 and 6 to 8 at the Woodhull Baptist Church, W. Main St. Woodhull. Funeral services will be conducted there on Wednesday at 11 am with Rev. Scott Towner and Rev. Mort Gridley officiating.
Burial will follow in Woodhull Cemetery.
Memorials in Eric's name may be made to Addiction Awareness of Steuben County, 15 W. Front St. Addison, NY.