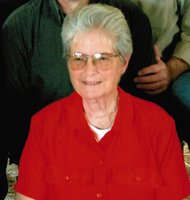 Ruth M. Boyer
Ruth M. Boyer, 78, of St. Rte. 417, Addison, NY, passed away on Sunday morning, February 18, 2018 at Strong Memorial Hospital in Rochester, NY.
Ruth was born in Coudersport, PA on March 3, 1939 and was the daughter of Frederick and Mildred Swarthout Redmond. She graduated from Port Allegany High School.
On August 10, 1957, Ruth married David J. Boyer in Sartwell Creek, PA. Dave preceded her in death on November 2, 2013.
Ruth was employed by the Addison Central School Transportation Department for 47 years. She was a long time bus driver and eventually became the secretary and "go to person" for the transportation superintendent and his staff. She marked a huge career milestone by safely transporting students for over one and a half million miles. She served as the Tuscarora Town Clerk for 12 years. She and Dave started a sheet metal business near their home and together they operated Boyer's Sheet Metal for many years. They both were charter members of the Addison Eagles Aerie 3904 and Ruth was a past president of the Eagles Auxiliary. She was a member and past matron of the Woodhull-Tuscarora OES Chapter 273.
Ruth loved to bake and cook for family and friends. She was never heard to say an ill word of anyone. She could be a stern mother and bus driver but her kind heart would reach out to anyone in need,
She is survived by her sons and their wives, Roger and Sue Boyer of Addison, Donald Boyer of Greensboro, NC, Steven and Carol Boyer of Painted Post and Shawn and Rose Boyer of Beaver Dams, her grandchildren, Curtis Boyer, Cara Boyer, Craig Boyer, Andy (Kathleen) Stamp, Justin Stamp, Mary Allison "Alli" Boyer, Kenneth Boyer, Katie Boyer, Laura (Ross) Thorne, Nicholas Boyer and Tyrah Pollack, her great grandchildren, Rylee Thorne, Mary Grace Stamp and Margaret Rosalee Stamp, her siblings, Fred (Shirley) Redmond of Burtville, PA, Philip (Gloria) Redmond of Roulette, PA and Judith (Ronald) Dates of Roulette, her brother in law, Robert (Charlene) Boyer of Dubois, PA, her sisters in law, Mary (Neil) Baker of Tioga, PA, Viola Boyer of Slidell, La and Doris Boyer of Addison as well as many nieces and nephews.
Besides Ruth's husband Dave, she was predeceased by her parents, Frederick and Mildred Redmond, her daughter in law, Kathi Boyer, her sister, Florence Joseph and her brother, Robert Redmond.
Friends may call on Friday, February 23 from 2-4 and 6-8 pm at the H.P. Smith & Son Inc. Funeral Home, 1607 Main St. Woodhull, NY. Funeral services will be held there on Saturday at 11 am with Rev. Brian Diffenbacher officiating.