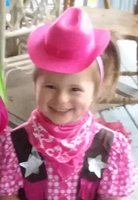 Madi "Madi" Strope
Madilynne Pyper "Madi" Strope, age 2 and a half, passed away suddenly on Monday morning, March 26, 2018 at Corning Hospital.
Madi was born in Corning on September 18, 2015 to Emily Derenzo and Donald "Corey" Strope. She resided with her other parents in Woodhull, Angelica Baker and Austin Fritz,
Madi had a radiant smile that would light up any room and turn sour moods to sweet. She loved her pets and playing with Barbie and playing "dress up". In her travels with family, Madi loved to stop in at McDonalds for some fries or Applebee's for some mac and cheese. She was truly cherished by all around her and will be deeply missed.
Surviving are her parents, Emily Derenzo and Corey Strope, both of Addison and Angelica Baker and Austin Fritz of Woodhull, her sisters, Kiera Stone, Aundrea Strope and Faith Fritz, her brothers, Caighen Strope, Gage Baker, Jason Carr and Gabryle Strope, grandparents, Donald Strope and Robin Fredericks and Diane Andrews and Bill Slack, her great grandmother, Sue Thompson, aunts, Caili Strope, Cindy Strope, Kayla Palmer, Alicia Acree, Kim Snyder, Debra Wheeler and Misty Farrand, uncles, Dakota Strope, Joe Derenzo, David Cabisca and Josh Snyder and cousins, Blake, Grayson, Olivia, Ariah, Brooke Bella and Andrew.
Friends may call on Monday, April 2 from 4 to 6 pm at the H.P. Smith & Son Inc. Funeral Home, 1607 Main St. Woodhull. Funeral services will follow there at 6 pm with Rev. Rollin Howard officiating.
Burial will be in St. Catherine's Cemetery, Addison.