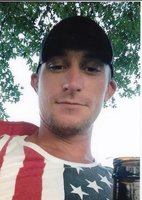 Brandon G. Donaldson
HORNELL: Brandon G. Donaldson, 29, of North Main Ext. passed away Tuesday, December 11, 2018.
Brandon was born February 8, 1989 in Hornell to George Donaldson and Linda (Updyke) Loucks.
He had attended Jasper-Troupsburg Central school where he enjoyed playing soccer. Brandon worked construction through the local carpenters' union and had worked for the Welliver Construction Company before moving on to work for Brian Butler Construction in Hornell. Brandon was a very diligent and hard-working man and was very good at being a "Handyman" on the job. When he wasn't working, he spent as much time as he could with family and friends.
Survivors include his wife Amy (Haynes) Donaldson of Westfield, his children, Allie and Emmett Westfield, Pa. and Rayleigh Donaldson of Hornell. He is also survived by his mother Linda (Dennis) Loucks of Addison and father, George (Janett) Donaldson, four brothers, George Donaldson, Jr. of Georgia, Dustin Updyke of Greenwood, Christopher Dickinson of Addison and Robert (Wendy) McKinzie. Three sisters, Sarah (Ryan) Vallieres of Greenwood, Christy (John) Dickinson of Greenwood and Georgeanna Donaldson. His maternal grandparents, Jerry and Joanne Updyke of Greenwood, several aunts, uncles, nieces, nephews and cousins and a very close friend Ray France of Hornell.
He was predeceased by his paternal grandparents Wilbur and Peggy Donaldson and his close cousins Tiara and Tyler O'Dell.
The family will receive friends from 1-4 pm on Saturday, December 15 at the H.P. Smith & Son, Inc. Funeral Home, 29 East Main Street in Canisteo, where a short prayer service will follow calling hrs. at 4:00 pm. Burial will be at the convenience of the family.