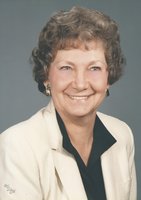 Cora Estelle Mills Thompson
Cora Estelle Mills Thompson passed away on January 2 at Elderwood in Hornell after an 18-month long illness. She was born December 13 or 14, (depending if you believe her or the government) in 1930 in West Union, New York. As a child, she lived in Rexville, NY with her parents Hugh and Elizabeth McMurtry Mills and eight brothers and sisters (who all called her "Tillie") and attended Greenwood High School.
In August 1947, at the age of 16, she answered an employment ad in the Hornell Evening Tribune for a "live-in companion for an elderly couple" in Alfred, NY. She was offered that job and moved to Alfred as a care-giver for Mr. and Mrs. Bassett where she worked while attending the last year of high-school. She graduated from Alfred-Almond Central School in 1948.
She attended Alfred University while working at the grocery store in downtown Alfred. It was at that grocery store job where she met the love of her life and future husband, Dale Alexander Thompson, a member of the AU wrestling team and a stand-out on the AU football team. He won her affection through a routine of daily flirting, consisting mainly of bopping her on the head with a loaf of bread. Dale and Cora were married on March 4, 1950 at Dale's parents' home in Cyclone, Pennsylvania. They lived in married student housing while Dale finished school and Cora cleaned houses for many Alfred clients. The stories of her pushing their first child's (Debbie) baby carriage up and down the hills of Alfred are legendary!
Cora and Dale settled in Almond, New York in 1955, where they went on to have six children. She loved taking her kids on rollicking Sunday drives over her old school bus route in the Rexville area and stopping by Woodhull for cheese curd (keeping a salt shaker in the glove compartment for cheese curd emergencies). After the tragic deaths of Dale and Dale Jr. in 1965, she built a thriving real estate rental business, focused mostly on student housing in Alfred, NY. She married J. Milton Leyman, of Hornell in 1968. In 1974 she was appointed to the New York State Mental Hygiene Board of Visitors. She was justifiably proud of her work serving people who suffer from mental illness and a crowning moment of her life was when the state accepted her design for the Mental Hygiene Board of Visitors logo.
Cora moved to Shallotte Point, NC in the early 1980s and lived there for several years, restoring a century home on the Shallotte River. She became involved in the arts and entertainment community there, attending drawing and painting classes and, with her husband Eldred Sykes, who she married in 1989, hosted a Sunday morning gospel radio show named "The Eldred and Estelle Show". In between restoring "the Olde House", painting, and singing, she found plenty of time to fish off her pier and eat oysters by the bushel. She and Eldred continued to be involved in the county music scene after they moved to Berea, Kentucky in 1991.
In 2001 she returned to her roots in New York state, living for a period of time again in Almond before eventually settling in Canandaigua, New York, where she lived until 2017. She enjoyed her life there, especially spending time with her fantastic neighbors. She also belonged to a variety of clubs at different times, including the Country Club, the Yacht Club, and the Garden Club. She participated in fashion shows and art shows, but most especially loved it when her extended family (children, grandchildren, sisters, brothers, nieces, and nephews –who all loved to visit Aunt Tillie) visited for parties on her deck.
She'll be remembered for many, many things, including her willingness to help other people in any way she could – but she'll be especially remembered for loving her kids, pecan sandies, cheese of any kind, cooking on the grill, eating big shrimp, remodeling houses, Hollywood musicals, and Hugh Grant movies.
She is survived by her children Debbie Thompson of Hornell, Amy (Dan) Mack of Cuba, NY, Major George Thompson of Clarksville, TN, Lisa (Robert) Prisco of Willoughby Hills, OH, and John (Martha) Thompson of Almond, NY and one step-daughter Suz Leyman of Hornell, NY. She is also survived by sisters Allie Mae (John) Grimaldi of Savona, NY and Myrtle (Robert) O'Dell of Bath, NY, and many grandchildren, great-grandchildren, nieces, and nephews. She is predeceased by her husband Dale Alexander Thompson and son Dale Alexander Thompson, Jr. (Sam). She is also predeceased by her daughter-in-law, Glenda Mountcastle (George) Thompson, parents Hugh Gerald Mills and Elizabeth Juliette McMurtry, brothers Gerald, Carlyle (Shorty), Robert, Charles, and Alvin (Si) and sisters Ruth Jean and Nettie (Mickey) Mills Croom.
The family will receive friends on Saturday, February 2 from 2:00 – 3:00 pm at the H.P. Smith & Sons, Inc. Funeral Home, 29 East Main Street in Canisteo, NY, followed by a service celebrating Cora's life at 3:00 pm. Burial will be in Woodlawn Cemetery in Almond.
If you wish to make contributions in her memory, two organizations close to her heart were the Almond Historical Society and the Almond Union of Churches.