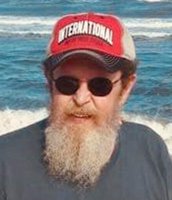 Roger C. Austin
Roger C. Austin, 63, of State Route 36, Troupsburg, NY, passed away quite suddenly on Wednesday, February 27, 2019 at the Arnot Ogden Medical Center in Elmira.
Roger was born in Hornell, NY on August 20, 1955, the son of the late G. Vernon and Bertha Mae (Allen) Austin. He spent most of his childhood in Troupsburg but as a teenager he moved to Bangor, PA where he graduated from Bangor Senior High School.
On April 10, 1974, he and Linda M. Finken were married in East Bangor, PA. They eventually moved to Roger's hometown of Troupsburg. He was a truck driver until he could no longer physically handle the rigors of trucking. Roger completed courses at Corning Community College and began as a teaching assistant for BOCES teaching heavy equipment operation. He began his career at the Wildwood Campus in Hornell and ended at the Coopers Career Center in Coopers Plains. He had also had a farming sideline at his home.
Roger was an avid outdoorsman, enjoying hunting and fishing. His family was his pride and joy. He adored his children, grandchildren and great grandchildren.
Surviving is his wife, Linda Austin of Troupsburg, his son and daughter in law, Steve and Mae Austin of Palatka, FL, his grandchildren, Steve Austin Jr. (Samantha Putman) of Westfield, PA, Hunter Austin of Palatka and Kia Austin of Palatka along with great grandchildren, Owin and Oaklyn Austin.
A memorial service will be held in the near future in Johnsonville, PA with burial in the Johnsonville Cemetery.