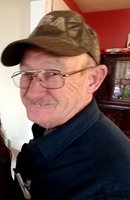 Armand L. Eldridge
MT. MORRIS/CANISTEO: Armand L. Eldridge, 64, of Mt. Morris. passed away unexpectedly, Sunday afternoon March 24, 2019, at Strong Memorial Hospital after being stricken at home.
Armand was born March 25, 1954 in North Hornell to the late Armand and Eleanor (Miles) Eldridge. On February 2, 1974 in West Jasper, he married the former Kathryn Drake who survives and resides in Mt. Morris.
Armand was employed at the Sabin Metal Corp. in Scottsville where he was a maintenance welder for the company. He will always be remembered as a hardworking, devoted husband, father and grandfather who loved his family dearly.
In addition to his wife Kathryn, Armand is survived by his three children, Patty (Patrick) Hoag of Hemlock, Lisa (Jeremy) Lippens of Wyoming, N.Y. and Leo (Michelle) Eldridge of Jasper. Five wonderful grandchildren, Sofie Hoag, Lucas and David Eldridge, Rylee and Aubree Lippens.
Armand is also survived by 5 sisters, Pat (Dick) Croston, Linda (Herb) Mitchell, Gayle (Mike) McKinney, Nancy (Bob) Drake and Lenora (Walt) Gilbert, 4 brothers, Dave (Yvonne) Eldridge, Mike Eldridge, Peter Eldridge and Tom (Tammy) Eldridge, sisters -in-law, Carol and Darlene Eldridge as well as several nieces and nephews. He was predeceased by three brothers, Raymond, Gerald and Robert Eldridge.
The family will receive friends from 5-7 pm Thursday, March 28 at the H.P. Smith & Son, Inc. Funeral Home, 29 East Main St. in Canisteo, followed by a prayer service at 7:00 pm. Burial will be at the convenience of the family.
Memorial contributions in Armand's name may be made to the Mt. Morris Vol. Fire & Ambulance Dept. P.O. Box 127, Mt. Morris, N.Y. 14510 or to the American Heart Association, P.O. Box 3049, Syracuse, N.Y. 13220-3049.