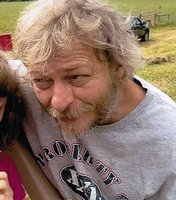 David E. Cabisca
David E. Cabisca, 55, of Bradford, PA, passed away very suddenly on Tuesday, March 26, 2019 in Sheffield, PA.
David was born on the Fourth of July in 1963 in Montour Falls, NY. He was the son of the late George and Patricia (Sutton) Cabisca. David graduated from Corning-Painted Post East High School.
He had been a long time employee of Toshiba Electric in Elmira Heights, NY. He later worked for Instantheat Wood Pellets in Addison, NY. David was a family man who adored his entire family. He was a wonderful father, grandfather, son, brother and uncle.
David was preceded in death by his mother and step father, Patricia and Wesley VanZile, his father, George Cabisca and his brothers, Michael, George and Bill Cabisca.
Surviving are his children, Josh (Kimberly) Snyder of Lindley, Angelica Baker (Austin Fritz) of Woodhull, David Cabisca of Woodhull and Taylor Cabisca of Virginia, grandchildren, Gage Baker, Olivia Snyder, Faith Fritz and Araih Snyder, his siblings, Jessie (Lyle) Cradduck of Warren, PA, Dorothy (Robert) Burdick of Beaver Dams, NY and Daniel (Jen) Cabisca of Warren, PA as well as many nieces, nephews and cousins.
Friends and family may call for a time of visitation at the H.P. Smith & Son Inc. Funeral Home, 1607 Main St. Woodhull, NY on Saturday, March 30 from 2 to 4 pm.