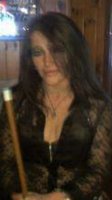 Marlene R. Pickels
Marlene R. Pickels, 52, of Lamphier Road, Cameron, passed away at home on Monday, April 8, 2019 quite suddenly.
Born in Montour Falls, NY on July 19, 1966, Marlene was the daughter of Sandra Hotaling and Frederick Freeman. She was a stay at home Mom who looked after her daughter Jessica. She enjoyed time spent in the outdoors and loved to hunt and fish.
Surviving is her daughter, Jessica Saul of Cameron and grandson, Levi Saul, her siblings, Daniel (Betty) Canute of Addison, Aaron (Jessica) Canute of Addison and Ila (Alan) Estep Jr. of Cameron, along with many nieces, nephews and cousins.
She was preceded in death by her parents, Sandra Canute and Frederick Freeman.
A Celebration of Life will be held at a later date.
Arrangements are with the H.P. Smith & Son Inc. Funeral Home in Woodhull.