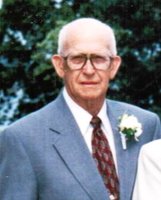 Rex G. Hargrave
Rex G. Hargrave, 100, of Thomas Road, Woodhull, NY, passed away on Monday afternoon, April 15, 2019 at the Bath VA Medical Center Community Living Center.
Born in Rathbone, NY on February 1, 1919, Rex was the son of Walter L. and Coral Fay Hargrave. He attended school in the Harder Rural School in Woodhull but left at 16 to assist his father in his masonry work. He eventually began a long career with the Ingersoll Rand Co. in Painted Post. Rex and the former Carmen J. Hackett were married in Painted Post on September 12, 1941. Carmen preceded him in death on January 15, 2016. As a young man, Rex played town team baseball for Woodhull and was a former scout leader.
In 1945 Rex entered the US Army and was called to serve in Europe during the time of the Allied Occupation. When he was discharged from the military in 1946, he returned to Ingersoll Rand where he worked as a machinist and eventually became a foreman. He retired after 42 years of active employment. Following his retirement from the Rand, he worked for several years for Cranco Products in Addison.
Rex was the oldest living member of the First Baptist Church of Woodhull. He participated in the Sunshine Bowling League and he and Carmen were long time members of the Woodhull Community Friends Senior Citizens Group. They also were very active square dancers and belonged to various dance clubs in the region. They also were avid snowmobilers in the 1970's and enjoyed spending time riding with the many couples in the area that shared that interest.
Surviving are his children and their spouses, Tracy and Peter Logel of Rochester, NY, Michael Hargrave and John De la Roche of Naples, FL, Andrea Hargrave of Rochester, Brian and Joyce Hargrave of Addison and Penny and John Pepper of Woodhull, daughter in law, Janet Hargrave of Groton, CT, 12 grandchildren, 25 great grandchildren, his sister, Verda Miller of Canisteo and several nieces and nephews.
Besides his wife Carmen, Rex was predeceased by his sisters, Aletha Hotaling and Veva Jackson and by his brother, Fay Hargrave.
Friends may call on Saturday, April 20 from 10 am to 12 noon at the H.P. Smith & Son Inc. Funeral Home, 1607 Main St., Woodhull, NY. Funeral services will follow there at 12 pm with Pastor Brian Diffenbacher officiating.
Burial will follow in Woodhull Cemetery with military honors in recognition of his service as a World War II veteran.