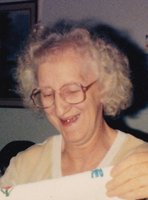 Vera M. Palmer
BATH/CAMERON: Vera M. Palmer, 87, of Geneva St. formerly of Cameron passed away Wednesday, May 8, 2019 at Ira Davenport Hospital following a brief illness.
Vera was born July 31, 1931 in North Hornell to the late Max and Norma (Burley) Wilcox.
She was an LPN nurse who worked in private home health care and had worked at the Bryer Cliff Home for Adults in Bath before retiring. While she lived in Cameron and was capable, she was an active member of the Cameron Ambulance and Fire Dept.
Other personal interests included reading. Vera loved to read, particularly romance novels. She also liked to do puzzles, do word searches and while living in bath, play BINGO at the Lake View Apartments.
Vera is survived by two sons: Max Palmer of Bath, Kevin Palmer of Horseheads, one daughter, Melody Shaffer (Rodney Dixon) of Cameron, 9 grandchildren and 8 great grandchildren. She was predeceased by a son Leonard Palmer and a sister Maxine Smith.
The family will receive friends from 1-4 pm Wednesday, May 29th at the West Jasper Wesleyan Church, 2621 Milwaukee Rd. Jasper, N.Y. where a memorial service will take place immediately following calling hours at 4:00 pm. Pastor Todd Mitchell officiating.
Memorial contributions in Vera's name may be made to the Cameron Ambulance Corp. Cameron, N.Y. 14819.