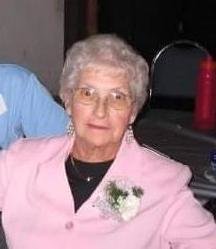 Obituary of Jacqueline W. "Jackie" Herrington
Jacqueline W. "Jackie" Herrington, 89, of Front St. Addison, NY, passed away on Saturday, July 29, 2017 at Corning Hospital.
Born in Troupsburg, NY on Sept. 15, 1927, Jackie was the daughter of the late Kenneth C. and Leda L. Welch White. She was a 1945 graduate of Addison High School. She married her high school classmate, Llewellyn "Bud" Herrington on Feb. 14, 1948 at the Addison Baptist Church. Bud preceded her in death on Oct. 21, 2013.
Jackie took a job with the Ingersoll Rand Co. in Painted Post as a young adult. She soon assumed a position with Chowning Regulator Co. in Corning. She retired after 35 years of service and had become the Corporate Treasurer and office manager. Jackie belonged to the United Methodist Church of Addison. She was also an auxiliary member of the Powder Creek, Wyoming American Legion Post.
Besides her husband Bud, Jackie was predeceased by her daughter, Pamela Cook on Feb. 28, 2008, her son, Brian Herrington on June 7, 2016, her brothers, Robert White, Kenneth White and Edward White and her sister. Edith Parker.
Surviving is her daughter, Cindy Luedeman of Corning, her son in law, Frank Cook of Addison, her daughter in law, Linda Herrington of Addison, 8 grandchildren, 4 great grandchildren and several nieces and nephews.
Friends may call on Wednesday, Aug. 2 from noon to 2 pm at the H.P. Smith & Son Inc. Funeral Home, 1607 Main St. Woodhull, NY. Jackie's funeral services will follow there at 2 pm with Rev. Brian Diffenbacher officiating.
Burial will be made in Addison Rural Cemetery.
Memorials in Jackie's name may be made to the American Cancer Society.