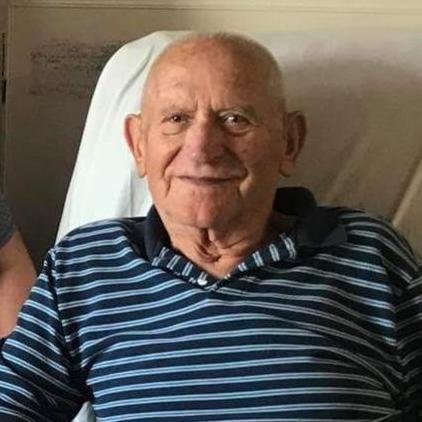 In Memory of
James E. "Jim" Rice Sr.
1928 - 2018
Obituary of James Rice Sr.
James E. Rice, Sr., 89, of County Route 70A, Hornell, passed away very suddenly on Friday, April 20, 2018 in the emergency department of St. James Mercy Hospital in Hornell.
Jim was born in Jasper, NY on November 21, 1928, the son of the late Earl W. and Hazel Rada Eason Rice. He was a 1949 graduate of Woodhull High School.
On January 23, 1950, Jim and the former Margaret A. "Peggy" Strait were married in West Jasper.
Jim began a long career with the Ingersoll Rand Co. in Painted Post where he worked as an assembler in the gas engine division. He retired from what became Dresser Rand after over 40 years of active service. He and Peggy made their home in Jasper during this time where they raised their family. He was a former member of the Jasper Fire Department and had been an avid league bowler. Jim acted as a Steuben County Auxiliary Police Officer where he was employed for many years as a security officer at Woodhull Raceway.
Following Jim's retirement, he and Peggy moved to Florida where they lived for several years. While living there, they were very active in the Trinity Chapel in Mount Dora, FL, where Jim served as a church elder and usher. They returned to this area in 2012 and had made their home in Hornell. Upon their return, they became active members of the Canisteo Wesleyan Church.
Surviving Jim are his wife of 68 years, Peggy Rice of Hornell, his daughters, Karen Rice and Monica (Tom) Flaitz, both of Hornell, his sons, James (Regina) Rice Jr., of Somerset, Kentucky and Richard (Vivian) Rice of Lockport, NY, his grandchildren, Donald (Jackie) Lewis, Brett Flaitz (Heather Kriner), Jason (Jennifer) Flaitz, Jamey (Frankie) Rice, Daniel (Tammie) Rice, Christopher (Kristen) Rice, Micah (Sandy) Rice, Eric Rice, Andrea Rice and Timothy Rice, 26 great grandchildren, his sister in law, Judy Rice, along with many nieces and nephews.
Jim was preceded in death by his parents, Earl and Hazel Rice and his brothers, William and Charles Rice.
The family will receive friends on Wednesday, May 2 from 3 to 5 pm at the Canisteo Wesleyan Church, Greenwood St. Canisteo. Funeral services will follow there at 5 pm with Pastor Shannon Brumfield officiating.
Burial will be made in Woodhull Cemetery.