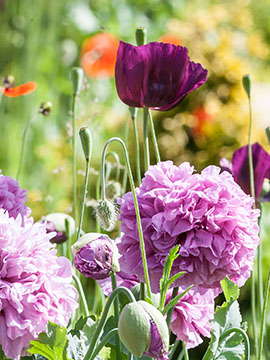 Obituary of Helen Hamblin
Helen M. Hamblin, 92, of Addison, NY, (Town of Tuscarora), entered into rest and joined her husband on Monday, May 7, 2018..
Helen was born in Farmington Township, PA on February 28, 1926, the daughter of the late Mark and Martha (Buck) Owlett. On November 4, 1943 she married Wilbur O. Hamblin. Wilbur preceded her in death on August 17, 2012. Helen was a homemaker and caregiver for her large family. She was an avid reader and proudly had collected a huge library of books. Helen enjoyed growing flowers and had always maintained a large vegetable garden. She was a former member of the Freeman Grange. She loved and appreciated her many caregivers at Absolut Care of Three Rivers.
Besides her husband Wilbur, Helen was predeceased by her son, Leonard Hamblin, her daughter, Judy Mundy, her sister, Marian Mills, her daughter in law, Rose Hamblin and her son in law, Tracy Hargrave.
She is survived by her daughters and spouses, Phyllis and Robert Towsley of Addison, Janet Burgess of Addison, Wilma (Elton) Jones of Arkansas, Evelyn and Glenn Brown of Columbus, GA, Virginia and Wyatt Wolf of North Port, FL, Patti and Wesley Baker of Addison and Dottie and Tim Stapleton of Corning, her sons and spouses, James and Kathie Hamblin of Addison, Kenneth Hamblin of Addison, Jerry and Joy Hamblin of Columbia Crossroads, PA and Roger and Debbie Hamblin of Caledonia, her son in law, Larry Mundy of Addison, 27 grandchildren, many great grandchildren, 4 great great grandchildren, her brother, Franklin Owlett of Florida, her sister, Peg Maines of Mainesburg, PA and many nieces and nephews.
Friends and family may call on Thursday, May 10 from 1 to 3 pm at the H.P. Smith & Son Inc. Funeral Home, 1607 Main St. Woodhull, NY. Funeral services will follow there at 3 pm with Rev. Peter Marr officiating.
Burial will be in Woodhull Cemetery.