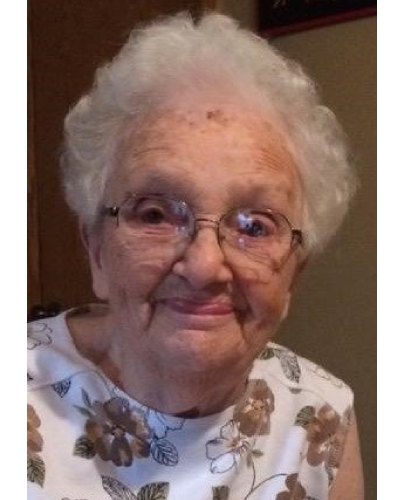 Obituary of Mary L. Davis
Mary L. Davis, 92, of County Route 129, Woodhull, NY passed away on Monday morning, January 28, 2019 at St. James Hospital in Hornell following a short period of failing health.
Born in Addison, NY to Sarah Thomas on June 29, 1926, Mary has lived in Woodhull since she was an infant. During the height of World War II, Mary left school in Woodhull and took a job at Corning Glass Works. On April 1, 1944 she married a young Marine, Gerald R. Davis in Painted Post. Following the war, Mary proudly finished her high school studies at Troupsburg Central School.
Mary became a postal clerk at the Woodhull Post Office, first working under Postmaster Walt Reynolds. Her husband Jerry soon after was appointed Woodhull Postmaster and he and Mary worked together there for 33 years. She and Jerry worked side by side as young adults to build their home in which Mary still lived.
Mary had a true love and devotion to her community. She had always held the Woodhull Fire Department and Ambulance Assoc. dear to her heart. She is a life member of both the Woodhull Ambulance Assoc. and Woodhull Ladies Auxiliary. She had served as an ambulance board member as well as both President and Secretary of the Auxiliary. She and Jerry were always very fiscally generous to the fire department.
Her churches were a big part of her life. She had been a member of the Borden Baptist Church and the Tuscarora Baptist Church. In recent years she was attending the Woodhull Community Church.
Mary was a long time member of the MacDonald Guild in Woodhull and was a local Headstart volunteer for 8 years. She also belonged to both the Woodhull and Jasper Senior Citizens groups.
If Mary knew you, you could expect a card with a hand written note from her for any important events in your life, be it a happy event or sad. She truly cared for everyone that she knew.
Mary is survived by her children and their spouses, Lawrence and Trina Davis of Elmira, Shirley Brutsman of Jasper, Calvin Davis of Woodhull and Kathy and Ken Knowles Jr. of Woodhull, 6 grandchildren, 12 great grandchildren, 3 great great grandchildren, special nephew, Ted (Lori) Thomas of Woodhull as well as several of Jerry's nieces and nephews.
Mary was preceded in death by her husband Jerry on Dec. 15, 2004, her brothers, Lawrence Thomas, Luther Thomas and Donald Thomas and her daughter in law, Shirley Davis.
Friends may call on Thursday, January 31 from 2-4 and 6-8 pm at the H.P. Smith & Son Inc. Funeral Home, 1607 Main St. Woodhull, NY. Funeral services will be conducted on Friday at 11 am at the Woodhull Community Church, W. Main St. Woodhull. Rev. Brian Diffenbacher and Rev. George Waggoner will officiate. Burial will follow in Woodhull Cemetery.
Memorial donations in Mary's name are requested to the Woodhull Fire Department, PO Box 266, Woodhull, NY 14898.
.