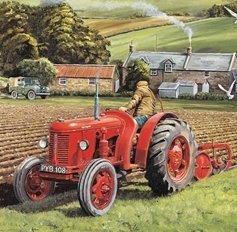 Obituary of Leo E. Coleman
REXVILLE: Leo E. Coleman, 91, of Cty. Rte. 98 passed away Wednesday, October 23, 2019 at St. James Mercy Hospital in Hornell after an extended illness.
Leo was born December 2, 1927 in Hornell to the late Thomas and Ruth (McAllister) Coleman. Sixty-six years ago on May15, 1953 in Rexville he married the former Barbara Jean Ordway who survives and resides in Rexville.
Leo was a life-long resident of Rexville where he owned and operated the L.E.C. Dairy Farm. In his younger years he was one of the original members of the West Union Wildcat Softball team playing first base. Outside of farming he was an avid hunter and outdoorsman, served on the Whitesville School Board of Education for 8 years and was also on the Agway Committee Board in Whitesville. Like many farmers who had their favorite tractors Leo was no exception. He had a 1944 Farmall M that he was very fond of and would compete in area tractor pulls and won many events with his tractor. Very seldom did he get beat in his class.
In addition to his wife Jean of Rexville, Leo is survived by two sons: Leo E. (Lisa) Coleman of Whitesville, Lynn (Diane) Coleman of Rexville, two daughters: Shirley (Charles) Criss of Rensselaer and Ruth (David) Slaght of Harrisburg, N.C. Four grandchildren: Jeremy (Sarah) Coleman, Jason (Brandi) Coleman, Justin (Alicia) Coleman and Adam Slaght, 8 great grandchildren and one great, great grandson. He is also survived by two brothers: Thomas "Hughie" (Nancy) Coleman of Greenwood, Kenneth (Geri) Coleman of Mechanicsburg, Pa. a sister, Isabelle Cooney of Whitesville, special friends, Mike and Kitty Kirsch and Danielle Morris-Pierce and several nieces and nephews.
He was predeceased by a grandson Jarred Coleman, a brother Francis Coleman and nephews Frankie and Thomas Coleman.
The family will receive friends for a short period of time from 11 am to Noon Saturday, October 26, at St. Mary's Catholic Church in Rexville where a Funeral Mass will follow visitation at 12:30 pm. Burial will be in St. Mary's Churchyard Cemetery at the convenience of the family.
Memorial contributions in Leo's name may be made to either the Hart Comfort Home, 141 East State St. Wellsville, N.Y. 14895 or to the West Union Vol. Fire Dept. c/o Donald Meehan, 1438 Cty. Rte. 98, Rexville, N.Y. 14877.
Visitation
11:00 am - 12:00 pm
Saturday, October 26, 2019
St. Mary's Catholic Church
Church Street, County Rte. 117
Rexville, New York, United States
Funeral Mass
12:30 pm
Saturday, October 26, 2019
St. Mary's Catholic Church
Church Street, County Rte. 117
Rexville, New York, United States
Burial will be in St. Mary's Churchyard Cemetery at the Convenience of the Family